Our healthcare services
Welcome to Stockholm Healthcare Services, Region Stockholm.
We provide psychiatry for children and adolescents, adults and the elderly, and also provide specialist dependence care, eating disorder care and forensic psychiatry.
Primary care comprises health centres, local urgent care clinics, pediatric and maternity care, youth counseling centers, a men's clinic and rehabilitation units.
We also provide services relating to technical assistance tools for the disabled, speech therapy clinics, habilitation, geriatrics and advanced home healthcare. We carry out research, development and education in partnership with Karolinska Institutet (KI).
Our goal is that our approximately 11,500 employees should have the right conditions to provide the correct care in the right way in their everyday work. In order to achieve this, everyone must work with a clear focus, both in their own activities and when interacting with other healthcare providers.
About Healthcare Provision Region Stockholm
We are part of Region Stockholm and our undertaking is to develop and provide care in your area. We are firmly convinced that care is better when decisions are made as close as possible to patients.
We have a great responsibility, and we therefore work on an ongoing basis to improve care. Together, we have approximately 11,000 employees working with the vision of providing "The right care, when and where you need it".
We strive to ensure that people living in Stockholm feel secure, and that you perceive that you are receiving safe, accessible care. As our patient, you should be satisfied with both the way you are treated and the results of the care we provide.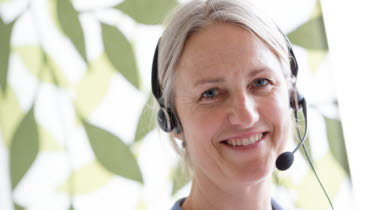 1177 Healthcare advice
Call a nurse at the healthcare advice line on telephone 1177. The advice line is open around the clock all days of the year.
Or visit their website with information in English.